SRN SERIES SUPPER HIGH SPEED SILKSCREEN
LABEL PRINTING

SRN SERIES- SILKSCREEN PRINTING PRESS
ORTHOTEC presents the next generation SRN Silkscreen printing press with exclusive & patented two shafts design gives Super-High-Speed 6000 RPH, and much steady pressure
TWIN SLIDING SHAFTS DESIGN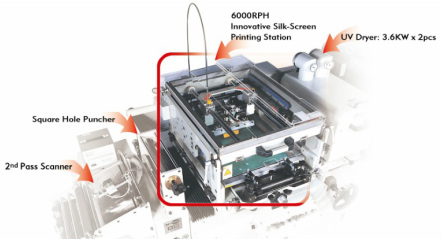 Twin sliding shafts gives a much more steady pr
essure of squ
eegee, also to insure an even & constant pressure of squeegee blade during printing
SERVO MOTOR FEEDING WITH SCANNER FOR 2ND PASS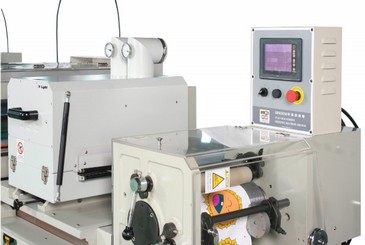 Direct-drive Servo System to reach a precise repeat-length and easy set-up. The high-tech. Scanner gives a precise re-registration of multiple passes
6000 PRINTINGS PER HOUR - SUPER SPEED
Upgrade the speed for 3 times from 2000RPH to a new world's records of 6000RPH by a new innovation
TWISTING ADJUSTMENT OF LOWER BED WITH SCREEN FRAME
To twist-adjust the Screen-frame with Lower-bed together while printing to avoid the ink smear and give an ultra fast set-up without tools
SRN3030 SCREEN PRINTING MACHINE

Flat-bed Hot stamping Unit, Semi-rotary Flexo Varnishing Unit, K&B Gap Master Magnetic Rotary Die-Cut Unit ,

Glue side & Back Side Printing Station, Lamination station with scanner,

Embossing Station, Magnetic Rotary Die-cut Station, Changing UV dryer to IR station

NOTES

Real working speed depend from materials, designs, repeat length, skills of operator and etc..

All specifications are subject to change without notice. Please check with your supplier for exact offer.

Specification and features vary by models, and all images might be illustrative for reference only.
*The above specification is for reference only, the operational speed and width depends on printing length, operator skill, design, job, and many other factors.
*The specification, picture, functions of machine might change without notice. Kindly check with your distributor or ORTHOTEC